[vc_row][vc_column width="1/4″][vc_column_text]
Dignitary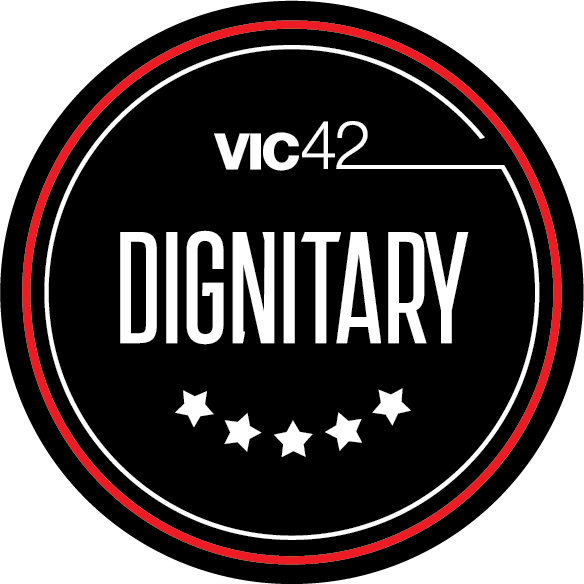 We follow you on Social Media
Linked logo on Patron wall and all features
Exclusive meet and greet events
Private events with AL and Christina
Free Year in Review coffee table book
Video shout out pool
Submit question ideas for interviews
Discount on Year in Review coffee table book
Hangouts with other Patrons
Special discounts
VIP events
Behind the scenes content
Early access to Vic42 event tickets
Random surprises
New content notifications
Early event notifications
Become a Dignitary!
[/vc_column_text][/vc_column][vc_column width="3/4″][vc_column_text]
The highest honour in the Vic42 community
[/vc_column_text][vc_column_text]
This is what you receive as a Dignitary
[/vc_column_text][vc_column_text]We follow you on social media: Nothing says connected like social share back connections. We will follow you on all your social feeds so we can mutually improve our social connections.
Linked logo on Patron Wall of Fame: There is a Supporters area on the website where we have out Patron Wall of Fame. It lists Patrons from top to bottom based on level and time with us. The longer someone has been with us, the closer to the top of their section they are. As a Dignitary your logo or name will be at the top and linked to your personal or corporate website.
Linked logo on bottom of each article: As an added bonus just for Dignitaries,  your logo or name will also be displayed and linked on every feature on the site, giving you a lot more regular exposure.
Exclusive meet and greet events: This could be anything from group meet and greets with inspiring people featured on Vic42 to having a feature come to your location for a private event.
Private events with AL and Christina: As a Dignitary, you have a much closer deeper relationship with the founders of Vic42. You will get to attend private events with AL and Christina.
1 Free Year in Review coffee table book: Each year we will choose our favourite features and print a coffee table book that will include the photos and write-ups from those features. It will make a great addition to your coffee table for guests to look through and enjoy.
Video shout out pool: You will be part of the pool of supporters that we thank directly in our video interviews. This adds one more layer to your exposure to the community of Vic42.
Submit question ideas for interviews: When we are interviewing features we will ask for question submission from our Dignitaries, so if there is something that you are excited to know about one of our future features, this is your chance to get in on the conversation.
Discounts on Year in Review coffee table book: Even though you will get a free coffee table book as a Dignitary, you also get to buy them at a discount to give as gifts.
Hangouts with other patrons: When Patrons get together, you will be invited to participate and be part of these hangouts where you will meet others that believe in the vision of Vic42.
Special discounts: From time to time, there will be offers from features or from Vic42 just for our Patrons, and you will get special discounts on those offerings.
VIP events: When Vic42 runs events, you will be given VIP treatment at each one.
Behind the scenes content: You get access to behind the scenes content that only Patrons can see.
Early access to Vic42 event tickets: When Vic42 runs events, you will get first dibs on tickets or passes.
Random Surprises: From time to time we may have giveaways and surprises for our Patrons
New shareable content notifications: When a new feature is live, you will be notified so that you can share links to it on your social media, letting people know you support Vic42 and the inspiring people we feature.
Early event notifications: You will be notified of upcoming events so you can plan and be among the first to join in.
[/vc_column_text][vc_btn title="Become a Dignitary!" style="classic" color="black" link="url:https%3A%2F%2Fvic42.com%2Fregister%2FDignitary%2F|title:Dignitary||"][/vc_column][/vc_row]